Your smartphone contains a whole bunch of apps to help you out in the best possible way. No wonder why all of us are glued to our phones day and night. Ever wondered the amount of data these apps consume to stay updated and keep on running. Not only these apps consume mobile data when you actually use them but they also exchange data even while running in the background.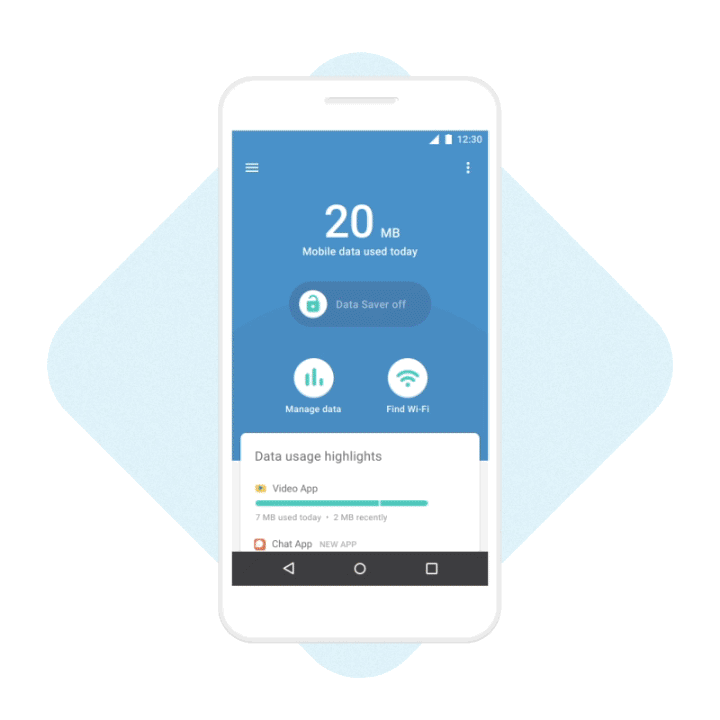 Although most smartphones do have inbuilt features to monitor and manage mobile data consumed by running apps, they are quite cumbersome and users need to browse and navigate through various settings to familiarize themselves regarding their know-how.
Datally, a newly released data management and monitoring app from Google's own stable is freely available for download from Google Play Store. This app promises to save mobile data with its innovative dual functionality and features:
Monitor and Control Data used by other Apps.
Finding nearby reliable WiFi Zones and Reduce Cellular Data Consumption.
The APK is around 5 megabytes in size and consumes roughly 16 megabytes after being installed on your smartphone. The app is compatible with all smartphones supporting android 5.0 (marshmallow) or later. When you install the app on your android phone, it will need access to your device and app history, GPS location, messaging service, Wifi connection information, device ID and call information.
Datally was originally released and tested in the Philippines as Triangle, a beta version of the current app. Its wide acceptance and success as a data saver considerably led Google to release it worldwide with a new name, Datally. The app is quite resource friendly and has an extremely lucid user interface. With just a single tap you can toggle between data saver on and off.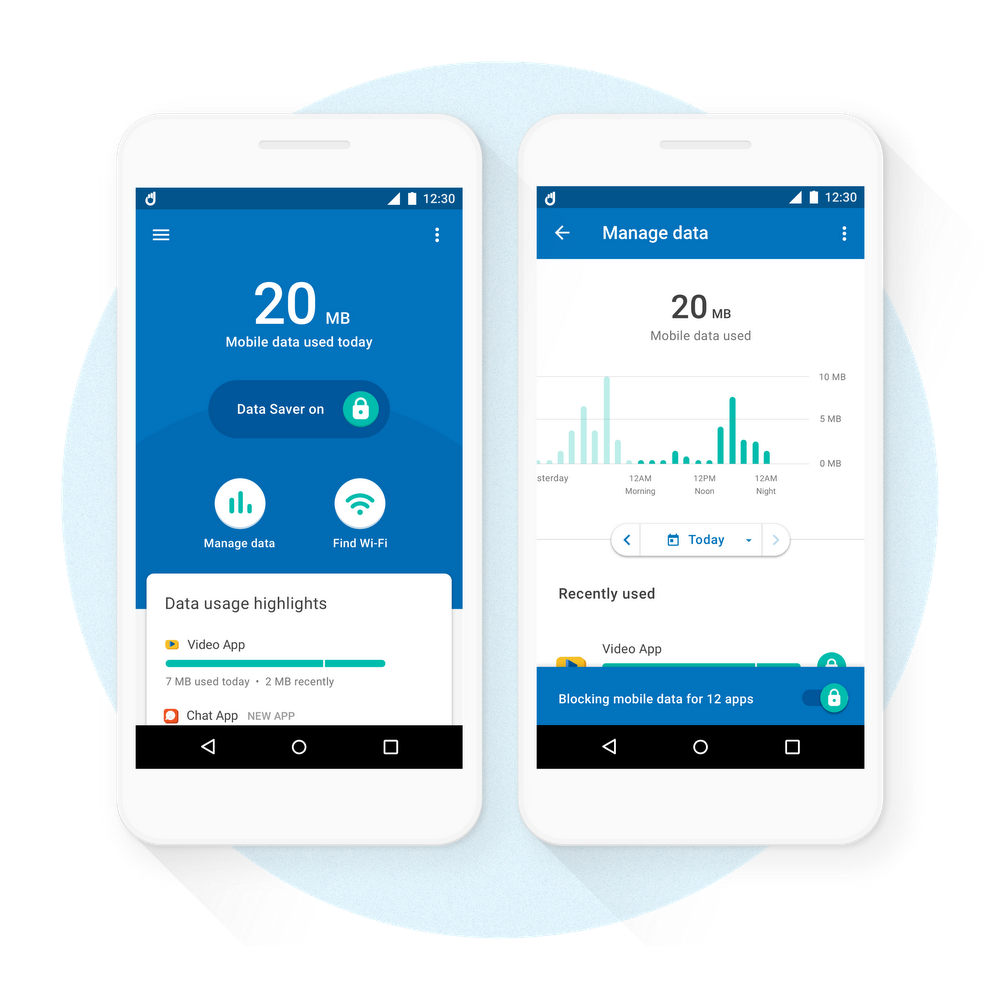 Dataly configures a Virtual Private Network (VPN) on your phone to block unwanted apps from sending and receiving data unnecessarily. For those of you who are unaware what a VPN connection is, in layman's terms VPN is a secured connection established between your device and the server. You need not worry as there is no need to pay anything for that.
Regarding privacy, you can be rest assured as the app data on your phone is not sent through Google's servers to any other networks, locations or servers. You simply need to ensure that the VPN service is turned on to keep Datally up and running. If you accidentally stop the VPN service, Datally will no longer be able to block data usage by apps, however, it still monitors the data transferred by them.
Once you tap on Manage data, Datally will show you statistical information of the entire data consumed by apps on a daily, weekly and monthly basis. You can even individually pick and choose the apps for which you want to block mobile data. This is an extremely important feature to control those data-intensive apps, which consumes and drains data at a rapid pace.
Simply tap on Find Wi-Fi, and you have a whole bunch of available nearby WiFi hotspots at your disposal. The best part is that you can directly find these locations on Google Maps. Although many of these are likely to be encrypted to prevent unauthorized access.
Based on signal strength, location and whether you have authorization, connect with a WiFi of your choice, you are ready to go. Enjoy flawless high-speed internet while saving your hard earned money on cellular data. The product team at Google seems to be very optimistic regarding this app.
We built Datally so people could understand, control, and save their mobile data. With Datally, you can save more and do more with your data. Josh Woodward, Product Manager at Google
Datally  allows you to share your existing WiFi network with other users, and help them save on cellular data. You can also share your feedback with Google regarding your user experience of Datally, and improvements you would like to see in upcoming versions of the app.
As we go deeper and broader in the world of mobile communications, our apps will grow bigger and more complex and will exchange more data than ever before. In coming years with IOT getting fully functional and adapted on a larger scale, we are sooner going to witness a data explosion. There will be a lot many connected devices exchanging data 24×7. Relying on cellular data will incur huge costs and will one day no longer be a viable option.
Introducing Datally is certainly a step in the right direction by Google. This will improve and enhance mobile penetration, and more and more people will have greater connectivity. This will further ensure that places having low internet penetration, and particularly those people who cannot afford surging cellular costs are not left behind in the digital revolution.
Datally App Review
Features

User Friendly

Data Saving

Data Usage Tracking
Summary
Google's free mobile data saver Android platform supported Datally app review is based on overall features, performance, user friendliness and feedback from various users and friends of Search Engine Mogul Team.
Image/Video Courtesy: Google
SEM Correspondent publishes latest news and updates from the world of Digital Marketing in behalf of Search Engine Mogul Team.