Free Shopify apps are great. Especially those free Shopify apps which you can use to grow your store. There are countless apps in the official Shopify app store that you can download and install on your store, but it's not always clear which apps shall really help your eCommerce business succeed.
For every merchant, big or small, there comes a time to learn the rules of the game and level up your Shopify store. Many store owners choose to install third-party apps to enhance their stores' functionality and boost their profits.
While many Shopify stores struggle with growth and although the challenge can seem daunting, there are several free apps that can be implemented to help improve your store growth.
In this post, we'll be highlighting about 10+ useful Shopify apps that are either totally free to use or has a free plan that could come in handy for different stages of your store growth.
Top Free Shopify Apps for Your eCommerce Store Growth
When it comes to your store's bottom line, these free Shopify apps may help improve your conversion rate, sales, and marketing aspects of your store. Whether you're a new or experienced Shopify eCommerce store owner, you should definitely try out some of these awesome apps.
1. DH SEO‑All‑in‑one SEO Booster
An SEO app that may help you optimize your website's on-page SEO, making search engines notice the optimization, and may consider a fair ranking of your website on SERPs, and getting more organic customer traffic day by day. This app can help you get detailed insights into your site's SEO health with extensive SEO reports including SEO issues and guide to fix them. It helps to fix broken links, creating and pinging sitemaps to Google and lots of other SEO features. This easy to use SEO app comes with a user-friendly interface.
Learn More / Install DH SEO App
---
2. Bulk Image Edit ‑ Image SEO
This app comes with a free plan as well as paid plans. This app can help reduce the file size of your product images without loosing any apparent picture quality. It also allows to update image alt texts in bulk, resize images, converts PNG files to JPG, and lots more. You can also schedule automatic image modification as per your defined requirements. The logic behind is as image size reduces it helps to load your pages faster which may help in improve search engine rankings as well drive traffic to your Shopify eCommerce store. Its optimization may also help your product images to rank in search engines' image search results.
Learn More / Install Bulk Image Edit App
---
3. Product Reviews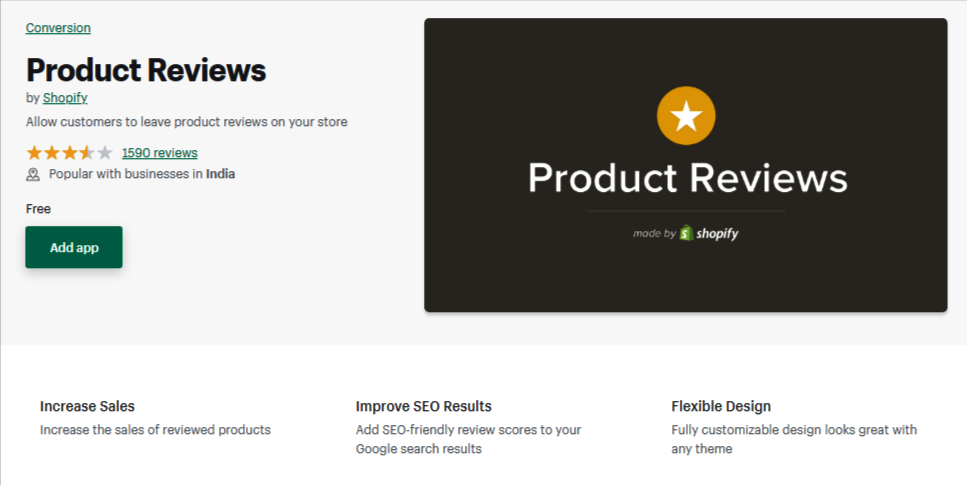 There are many ways to build trust with your customers, one of them is by publishing customer reviews. The Product Reviews app allows you to add customer reviews on your products. This gives you a way to show off the great products you sell, and encourage your customers to make further purchasing decisions.
Product reviews are extremely important in helping future customers make informed buying decisions. You should encourage your happy customers to write reviews for your business. Customer reviews are an excellent form of content on your business website. They're a great way to earn more trust and authority in the search engine results pages (SERPs).
Learn More / Install Product Reviews App
---
4. AliReviews: Ali Reviews App
A user-friendly app with a free plan available for people who are in dropshipping or eCommerce affiliate business. This app helps to import product reviews and photo reviews from Amazon and AliExpress. This easy to use Shopify app helps automatically to show off the imported customer reviews on your product page using review rich snippets, which helps to display customer ratings and product reviews in SERPs. This feature is a great help in product SEO. You can also filter reviews without images or with certain star ratings and exclude them from displaying on your product pages.
Learn More / Install Ali Reviews App
---
5. Ultimate Sales Boost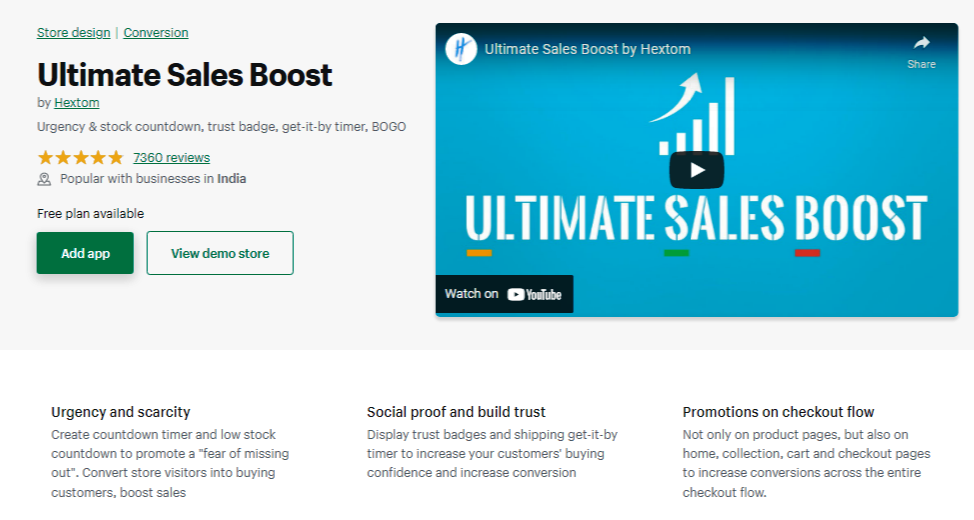 As the name suggests, the Ultimate Sales Boost Shopify app helps to promote your product sales through entire phases of the consumer journey. With this app you can set count down timer, low stock alerts, products on sales stickers, offers like buy one get one upsell message on products pages, etc.
You can also set promotional widgets with featured products on the home page or single product pages. You can add trust badges/ seals or optimize to influence every step of the customer journey from product page to the checkout page. Small business owners or entrepreneurs who live on a shoestring budget may start using this app with its free starter plan.
Learn More / Install Ultimate Sales Boost App
---
6. ONE – Pop Ups, SMS & Email Marketing
The power of 18 Apps in ONE. With this app, you can automate eMail marketing for product recommendations, abandoned cart recovery, thank you emails, and others. Also, you can its SMS marketing feature for Text messaging.
You can offer coupon codes, spin wheel discounts, gift cards, buy one get one free offer, and more. Capture leads through its popup signup forms.
Use its Social Proof feature to show real-time sales history with Sales Pop. You can also show the live visitor counters on your products page.
It contains features like post-purchase upsell recommendations, checkout booster, etc. You can do AB testing with its Device or Geo-location personalization.
In one sentence, the app helps to capture your website visitors' attention and boost sales.
---
7. PushOwl Web Push Notifications
PushOwl with its automated Web Push Notifications helps to target shoppers who abandoned their carts and didn't check out.
With web push notifications send information about products and offer to your subscribers' device home screen. You can target anonymous shoppers easily with this user-friendly app.
It integrates with popular Shopify apps like Judge.me, Stamped, Loox, PageFly, Growave, etc.
You can customize your notification marketing campaigns with its advanced features.
You can curtail the cost of email marketing, SMS marketing, and expensive platform-specific retargeting ads campaign with the use of this web push notification app.
Learn More / Install PushOwl App
---
8. Willdesk – Live Chat, Help Center, FAQ Page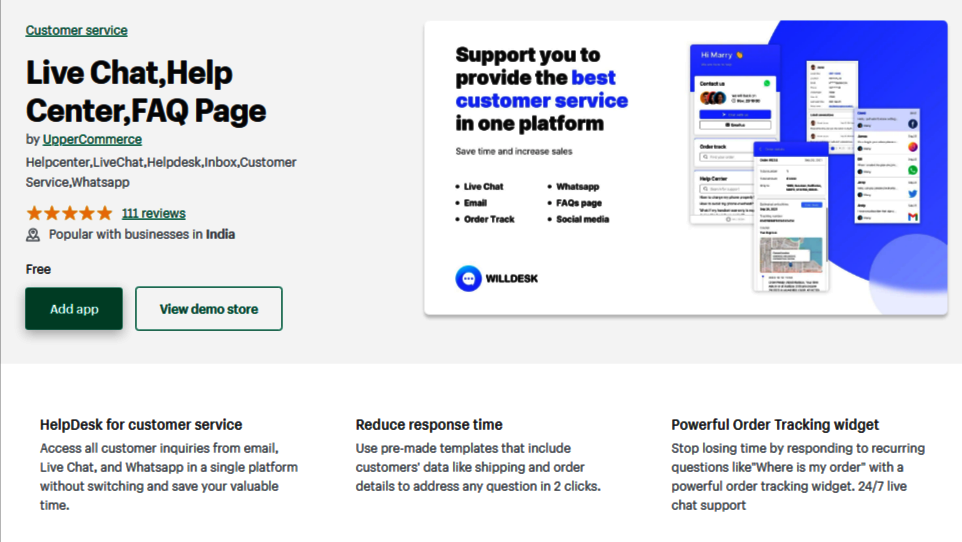 To increase the overall chance of conversion, you should provide a live chat, help center, and FAQ page that is easily accessible on your website. These will give your visitors confidence that they are able to find the solution for any issues they might have when making a purchase. Plus, you can make your customers feel valued by helping them through their entire journey on your eCommerce website.
"Live Chat" gives you a chance to address customer queries or complaints immediately and make their experience with your brand more positive. Put the list of frequently asked questions (FAQs) on your website's home page so that it will be easily accessible by your customers."
With the help of the Willdesk Shopify app, you are able to manage all your supports in one place that you want easily to provide your customers. You can access all inquiries via email, Live chat, and WhatsApp on a single platform. It may save a lot of your time. It has a built-in powerful order tracking widget which helps easily find customers' order status. 40+ language is supported through this app.
Learn More / Install Willdesk App
---
9. BON Loyalty Rewards & Referral
Loyalty Rewards and Referral is an excellent way to attract more customers and get them excited about your brand. This BON Shopify app helps you achieve customer retention and increased customer engagement through a simple and automated system.
Reward your customers for their loyalty and refer their friends. Let your customers earn and redeem loyalty points, use points for something special they want to purchase from your Shopify store. Reward your advocates by giving them attractive discounts/coupons that can be redeemed on future purchases.
The customer is a natural salesperson and can spread the word about your store through their social media activities, email contacts, etc. The built-in referral program can help you to grab this benefit.
You can even reward your customers for signing up, subscribing newsletter, completing an order, or for their birthday. Multiple language support, customizable widgets, and performance statics have made this app a must-try for every Shopify eCommerce store owner.
---
10. Google Channel
Whether you have a large budget or a shoe string budget, you can reach potential shoppers when they're looking for the product you sell from your website on Google.
The Google channel makes it easy for you to reach those shoppers who use Google to search for products they want. Both free and paid listings are supported by this Shopify app.
Showcase your products for sale to potential customers across Google — Search, Shopping, Images, Lens, and YouTube. You can list your products for free to showcase them in front of shoppers through different Google products like Search, Shopping, Images, Lens, and YouTube.
Moreover, you can create Google's automated Smart Campaigns in your budget from your Shopify platform with this app. You can also boost your product reach easily with the help of this Google channel.
Learn More / Install Google Channel App
---
11. Facebook Channel
If you are looking to reach customers and sell more products through Facebook and Instagram, the Facebook channel Shopify app is what you need to make your task super easy.
The Facebook Channel app is your one-stop place for everything you need to sell or market your products on popular social platforms like Facebook and Instagram. You can even set up Pixels and Conversions API to measure data and for the betterment of marketing campaigns.
The setup is very simple, once you connect your account with Facebook and Instagram, your store products will automatically sync to your Facebook and Instagram catalog which holds information about the items you want to promote.
Before trying this app make sure you follow Facebook and Instagram advertising policies if you wish to promote your products through these social platforms.
Learn More / Install Facebook Channel App
---
12. Microsoft Channel
You can now reach shoppers on Microsoft Search and Audience Network with the help of the Microsoft Channel Shopify app. Easily connect your Shopify store with a Microsoft Advertising account to pull in more traffic, customers, and sales.
In a few clicks, the app will make all the settings necessary for you to start advertising on Microsoft Ads and show eligible ads in paid search results on Bing, mobile browsers, other Microsoft networks, and partner websites.
You can set your daily budget to run paid ads as per your requirement and analysis. The ad performance stats are visible from your Shopify marketing channel.
Learn More / Install Microsoft Channel App
---
As a Shopify store owner, you should consider your marketing to be an integral part of the service you provide to your customers. Your store relies on sales, but online shoppers are also attracted to sites with a presence on the web. But how do you develop a marketing strategy that will drive traffic and conversions? Implementing some of these free Shopify apps may be just what you need.
Once you have a good idea of what you want to do with your store, it's time to start loading in products and begin marketing. That's where these free Shopify apps come in handy: they're lightweight ways you can get your Store off the ground, and they'll help you build a foundation for future creativity and growth.
None of the above mentioned Shopify apps are particularly difficult to install, and all of them have a fairly straightforward interface, but it's still best to be familiar with some basic coding when you implement them. If you don't have time to get your hands on those complex codes, you may spend a little and save a lot of time by hiring some freelance Shopify expert.
Image Courtesy: mohamed_hassan/pixabay, Shopify App Store
SEM Correspondent publishes latest news and updates from the world of Digital Marketing in behalf of Search Engine Mogul Team.