AI content writing tools can help writers automate one of the most tedious and menial tasks they have to do: writing content without having to think too much. This can be taken as an advantage since content writers are expected to produce high-quality content by a certain deadline. AI tools can help them do this in a way that ensures consistency and does not waste time or effort on writing mediocre content.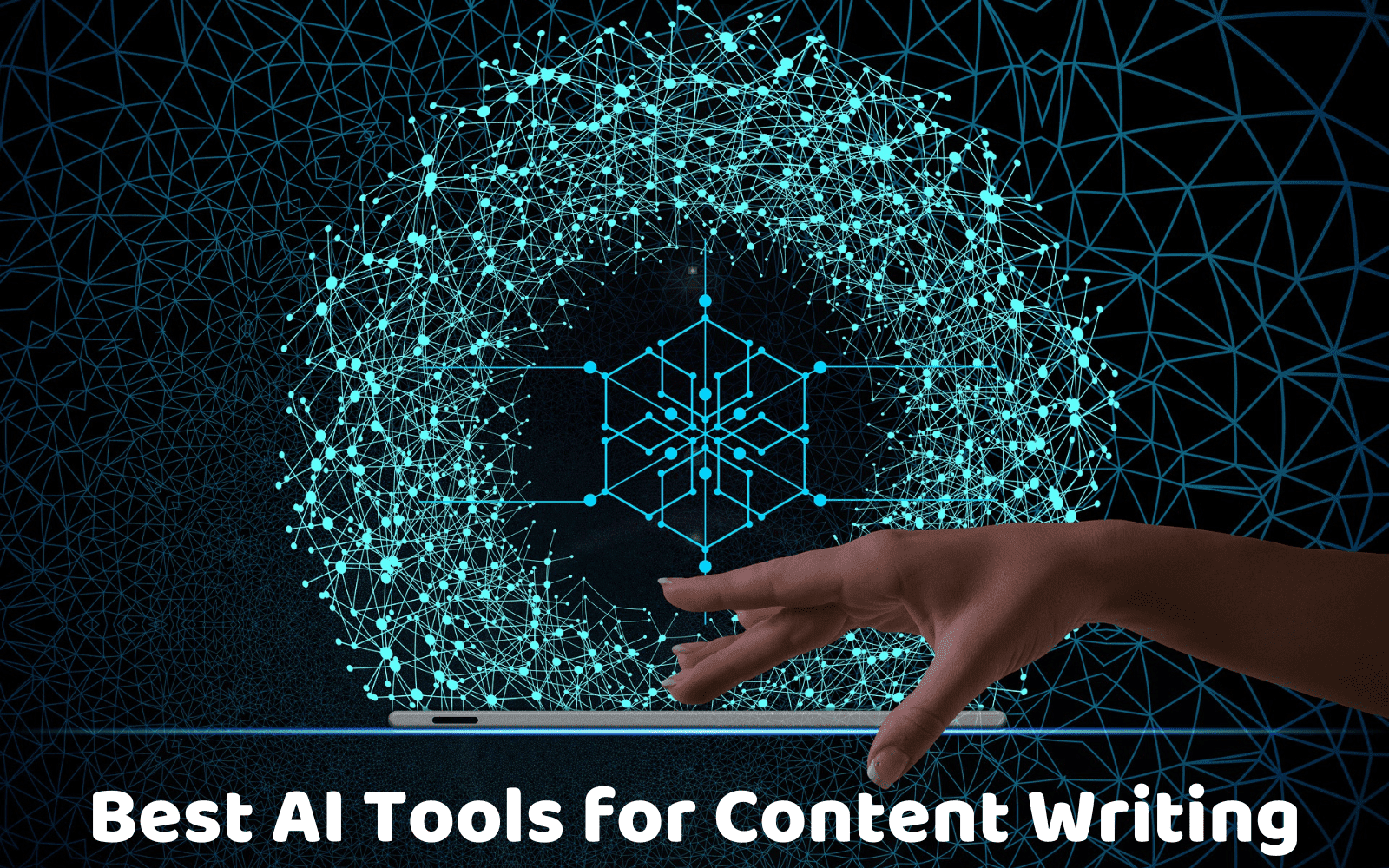 Writing quality content is not an easy task. There are lots of factors to be considered: your audience, the subject matter and style, etc. If you want to relate with your readers, you need to create content that is well-researched and well-structured.
Some content writers want to conduct their research on a particular topic; others prefer to outsource the work for more efficiency. Either way, AI tools can help you faster and more effectively than other methods. In this post, we'll share our picks for the best useful AI tools for quality content writing which may make your job easier.
Top AI Content Writing Tools for Today's Budding Writers
The AI tools we will look at here may be used to make your content writing SEO-friendly, helpful, engaging, and enjoyable. These tools are a game-changer for budding writers, offering a range of features to enhance your content creation process. Let's explore the exciting world of AI-powered writing tools.
1. WriteMe
WriteMe is an AI-powered writing assistant tool that provides various features to help writers improve their writing skills and generate fresh new content ideas.
This AI content writing tool may help users generate high-quality content in different languages and for more than 40 use cases, including social media ads, product descriptions, blog content, etc.
The WriteMe content writer tool's features include an SEO and metadata generator to enhance the overall visibility of the content. It also includes advanced language models that enable it to auto-generate killer content in 30+ different languages. Users simply need to pick their writing use case, input their ideas, and let the AI technology do the rest.
The tool is trained using 5 million articles and has 90 million parameters to ensure original content is produced for each output. It is a good solution for content creators looking to write high-quality content quickly and at a fraction of the cost.
One of the standout features of the WriteMe Ai tool is its unlimited free new line suggestions, which may be a great help for those who love to generate and add innovative, contemporary content to their writing. The tool is also capable of generating stories, and it uses natural language processing models that work on the neural network principle to match a certain prompt/query.
A user review on Trustpilot states that they found the line suggestions and "tab function" particularly helpful in reducing the time spent on writing long blog articles.
According to reviews on G2, Writeme AI is an effective tool for creating and managing quality content in just a few seconds. It can generate ideas and provide suggestions on various niches, and it organizes all articles under multiple categories.
Based on the available information, the WriteMe content writer AI tool appears to be a useful tool for generating article ideas and content, reducing the time spent on writing long articles, and organizing articles under multiple categories.
Try WriteMe for Free (2,000 words)
---
2. CopyAI
CopyAI is an AI-based content-writing tool that offers a range of features to help users with their content creation process. Users can access over 90 productivity-boosting content generation tools to help them generate copy for a variety of purposes, including product descriptions, ad copy, website copy, blogs, and emails.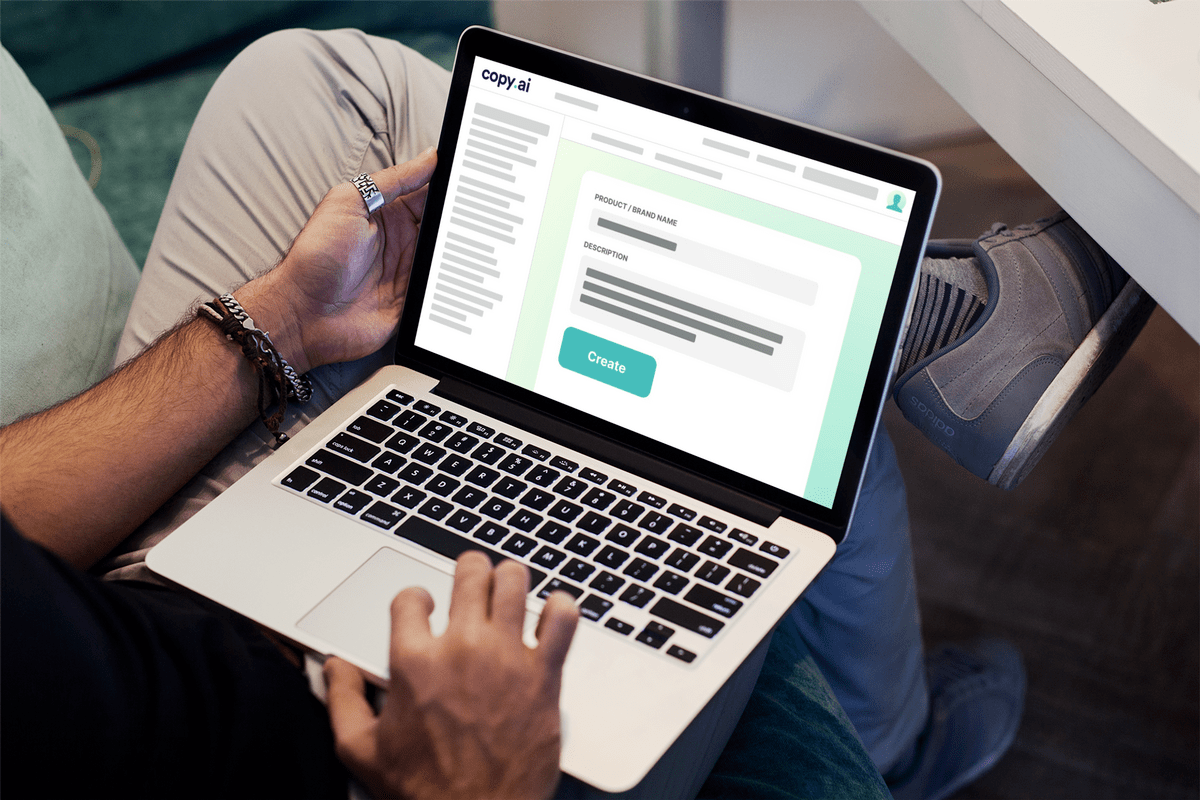 The tool is especially helpful for those who are tired of ideation and looking for quick and creative content ideas. It offers both free and premium idea generator tools to help users brainstorm content ideas quickly. Additionally, the tool offers a paragraph rewriter feature that may help users create unique versions of their content.
One of the main advantages of CopyAI is its collaboration capabilities. The tool is designed to work with users to assist them in brainstorming ideas, overcoming writer's block, and optimizing their content for their intended audience and goals.
Another advantage is its versatility. CopyAI may be used for a wide range of content types, making it a great tool for businesses and marketers looking to generate copy for various marketing channels.
Overall, CopyAI is a powerful AI-based content writing tool that may help users generate high-quality copy quickly and efficiently. With a range of features and collaboration capabilities, it is a great option for businesses and marketers looking to streamline their content creation process.
---
3. AIContentFly
A cutting-edge AI-powered platform has been designed to revolutionize content creation. With over 35 advanced writing tools, this innovative app offers an all-in-one solution for generating unique and engaging content. It is beginner-friendly, requiring no programming or writing skills, making it accessible to users of all levels.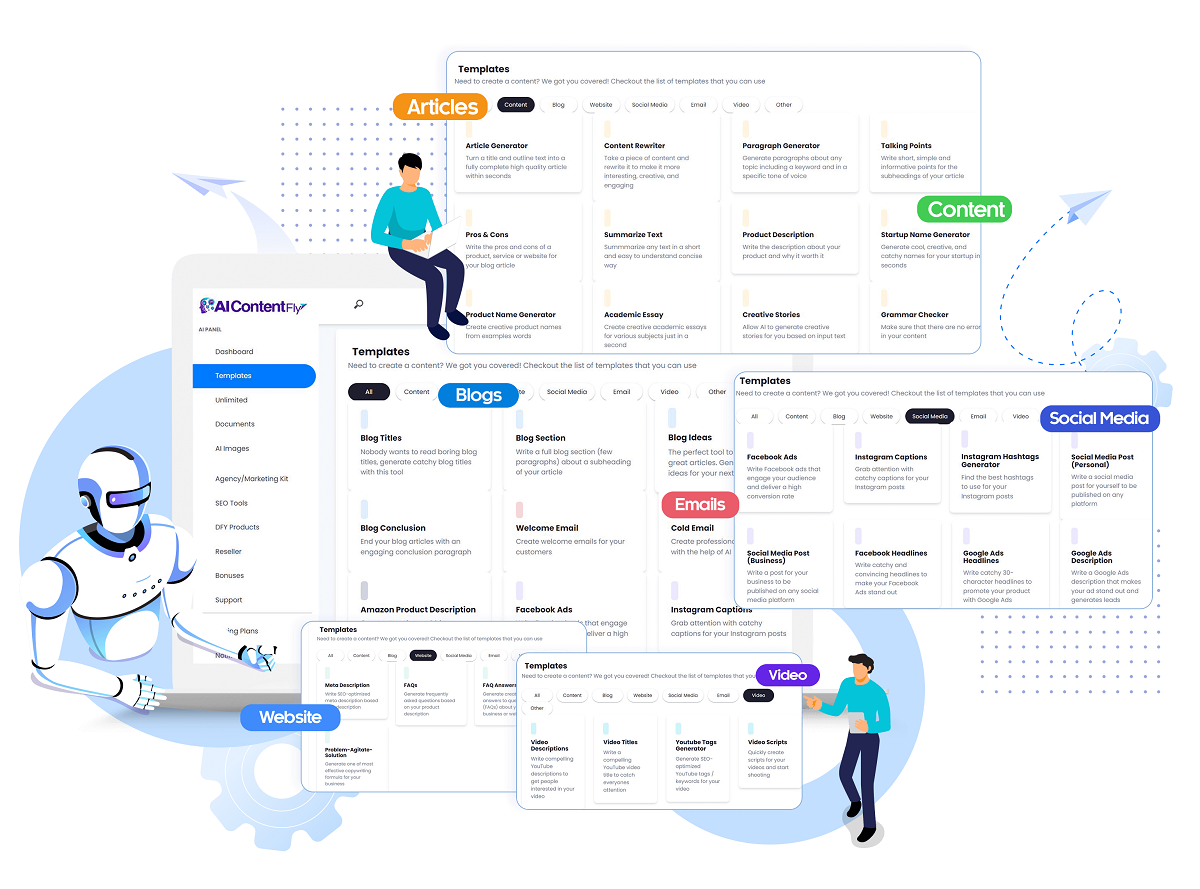 AIContentFly ensures flawless content with its integrated grammar checker, eliminating errors and ensuring top-notch quality. With 39 ready-to-use content templates, including blog posts, articles, social media content, product descriptions, and video scripts, you have a wide range of options to meet your specific needs.
Captivate your audience with high-quality marketing material that may convert effectively. Create compelling digital ads tailored for platforms like Facebook and Google. The platform also offers image generation capabilities for social media and advertisements, allowing you to create visually stunning content.
Not only is AIContentFly suitable for businesses, but it also caters to start-ups by providing AI writing services, including product descriptions and business idea generation. Additionally, it offers basic content editing and proofreading features, ensuring that your content is refined and error-free.
By leveraging the power of AI, AIContentFly accelerates your content creation process exponentially. What once took hours or even days can now be accomplished in minutes, saving you valuable time and resources. Say goodbye to outsourcing and hello to a more efficient and cost-effective solution.
Using AIContentFly is not only productive but also enjoyable. Its intuitive interface and powerful tools make content creation a breeze. Unleash your creativity and achieve outstanding results while having fun in the process.
For just a one-time payment of $17.95, you gain access to all 35+ tools within the AIContentFly app. Presently, the commercial license allows up to 3000 words per piece and 10,000 words per month, along with the ability to create up to 500 AI images. Need even more content? The Unlimited upgrade removes all limitations, providing limitless content creation at an affordable price.
Upon logging into the app, you will be greeted with a user-friendly dashboard. Choose from a variety of templates, including articles, blog intros, Google Ads descriptions, YouTube scripts, and hashtag generators. And if you require images for your projects, simply select AI Images from the AI panel, specify your desired resolution and content, and watch as the platform generates stunning AI images in seconds.
AIContentFly is the ultimate tool for empowering businesses worldwide to create and sell any form of content 100X faster, driving remarkable business growth. Experience the future of content creation with AIContentFly and say goodbye to traditional limitations.
Get Instant Access of AIContentFly
---
4. Copymatic
Copymatic is an AI tool for content writing. It enables users to generate various types of content, including blog posts, landing pages, digital ads, product descriptions, and more in seconds. The tool uses AI to boost traffic and save hours of work, and it has been voted as the AI writing tool with the lowest plagiarism rate at 2%.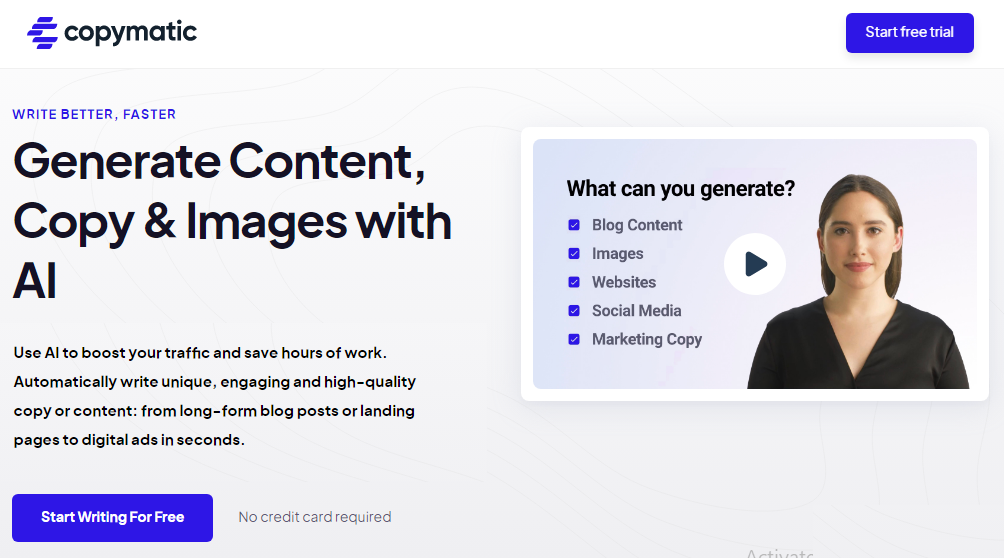 Copymatic is a relatively new tool and has already gained popularity as one of the smartest AI writing tools available online. The tool may write a limitless number of sales pages, emails, advertisements, and social media posts in 20+ different languages in under 10 minutes, making it an excellent choice for businesses looking to generate content with high conversion rates for all markets.
This AI content writing tool is designed to help businesses increase their traffic and engagement rates by creating high-quality content that resonates with their target audience. Overall, it is a powerful content generation tool that may help businesses streamline their marketing efforts and achieve their goals more efficiently.
Copymatic offers over 40+ tools for automatically generating blog content, website copy, frequently asked questions, marketing copy, reviews, emails, essays, product descriptions, ad copy, and more. It can also rewrite text and fix grammar, making it a versatile tool for various writing needs.
It is available as a Chrome extension also, it includes custom commands allowing users to generate any type of content and anywhere they want with AI.
This Copymatic may be a great choice for those looking to streamline their content creation process.
Grab Free Trial Access of Copymatic
---
5. TextCortex AI
TextCortex AI is an AI-powered writing assistant that uses natural language processing to suggest words, phrases, and even complete sentences that best fit a user's writing style. It appears to be user-friendly and can help rewrite the text in a fairly creative style. The software may be used by anyone from students to copywriters to business owners to improve their writing skills, generate ideas for ads, create long-form content, or save time, fitting many use cases.
Users can interact with the software in different ways, and it supports over 25 languages, allowing users to create content in their native language and get the same level of assistance. The software is super easy to use and implement, making the creative process much more productive. It creates optimized and unique text content, and it may help content and copywriters save two-thirds of their time.
The software's output variations are sometimes similar, but this is also the case with all other AI writing tools. It appears that TextCortex has fixed any downsides it used to have through fast product development.
Overall, TextCortex AI appears to be a powerful tool for anyone who wants to improve their writing skills or generate content more quickly and efficiently. It is suitable for a wide range of use cases and supports multiple languages. However, it is essential to consider specific content requirements and budget constraints before deciding to use this software.
Start Using TextCortex for Free
---
6. WriteSonic
Writesonic Ai is a content writing platform that uses artificial intelligence to generate high-quality and engaging content for various purposes such as blogs, social media platforms, websites, landing pages, product descriptions, and more.
According to user reviews on Trustpilot, Writesonic Ai is considered one of the best AI writing platforms on the market, offering a user-friendly interface and affordable pricing compared to other AI writing platforms.
Additionally, the software works at the pace of the user, generating text at the user's knowledge level, and it becomes more effective following user inputs.
Writesonic Ai has a variety of features, including a built-in plagiarism checker to ensure the generated content is original and not copied from elsewhere. The AI Article Writer feature may generate well-written articles or blogs by entering a topic. There is also a Sonic Editor which is an enhanced version of Google Docs to write sales emails, essays, reports, and even ebooks.
In terms of performance, Writesonic Ai claims to generate high-quality content. The software has a variety of templates and pre-loaded phrases, allowing users to create content quickly and efficiently. However, some users have noted that the generated content may still require some editing to meet their specific needs.
In summary, Writesonic Ai is an AI-powered content writing platform that generates high-quality content quickly and affordably. The software is user-friendly and has a variety of features that allow users to generate different types of content. While the generated content may still require little editing, Writesonic Ai can be considered as one of the top AI writing assistants in the market.
Sign Up for Free (10,000 words)
---
7. ChatGPT
ChatGPT, the AI language model used on chat.openai.com, is an efficient and accurate tool for obtaining information on a wide range of topics, and users may utilize it as a source for topic information and content writing improvement.
The speed and accuracy of ChatGPT in responding to queries and questions are fair. ChatGPT has been able to understand and respond to a wide range of topics and questions, making it a useful tool for casual conversation or specific subject inquiries. The clean and intuitive user interface of chat.openai.com makes it easy to navigate and find the information needed.
However, there have been some criticisms regarding the feedback response on openai.com. While the factual accuracy and rich vocabulary inclusion of ChatGPT are impressive, the feedback response could be improved.
Though as per our view, ChatGPT, is a valuable tool for obtaining information and improving language skills.
---
8. Copysmith
Copysmith is the AI-powered writing platform that revolutionizes content creation for businesses and content writers alike. With Copysmith, crafting top-notch content at scale becomes a breeze, eliminating the need for expensive writers.
Copysmith's AI content generator is a game-changer for marketing and eCommerce teams seeking to produce exceptional content. Powered by advanced technologies such as ChatGPT and OpenAI's GPT models, Copysmith has been optimized specifically to meet the unique copywriting needs and workflows of the eCommerce industry.
Businesses and content writers alike may find Copysmith to be a valuable tool for saving time and scaling their content writing efforts. Its remarkable ability to generate high-quality content quickly and effortlessly, combined with customizable options, makes it the ideal choice for content creation.
With Copysmith, say goodbye to the daunting task of staring at a blank page for hours on end. Instead, enjoy the benefits of having a reliable AI-powered companion, ready to craft engaging and compelling copy whenever it's needed. Copysmith's prowess lies in its ability to generate content that hits the mark, sparing you from the struggles of finding the right words and mundane writing tasks.
But Copysmith is more than just an AI tool. It's a comprehensive solution designed to make your content creation process a breeze. Whether you're in need of catchy headlines, persuasive product descriptions, captivating social media ads, or personalized email campaigns, Copysmith has you covered. Its customization options allow you to tailor your content to each individual customer, enhancing engagement and driving conversions.
Time is a precious commodity, and Copysmith understands that. Its purpose is to save you valuable time while turbocharging your content writing efforts. Bid farewell to writer's block and welcome a wellspring of inspiration.
Whether you're a content writer seeking to elevate your skills or a business owner searching for a cost-effective solution to scale your content creation, Copysmith is the answer you've been looking for. It's like having a team of talented writers at your disposal, poised to help you conquer the world one brilliantly crafted sentence at a time.
Don't let content creation be a burden. Unleash the power of Copysmith and witness your words come to life with style, wit, and a touch of AI magic. Experience the future of content writing firsthand by trying Copysmith today.
Sign Up for Free Copysmith Account
---
The depth, nuance, and uniqueness that come from human creativity and imagination may not be present in AI-generated stories. However, AI may be a useful tool for generating SEO friendly articles, story ideas, suggesting plot twists, writing ad copies, emails, social media captions, and even generating complete drafts of stories. It is always recommended to double-check and fine-tune the output to ensure that everything is factually correct and according to the writer.
---
Frequently Asked Questions (FAQs) on AI Content Writing Tools
Discover the answers to common inquiries about AI tools for content writing. Explore FAQs on their effectiveness, usage, and benefits.
Have you employed any AI tools for content writing mentioned above? What has been your experience thus far? Feel free to share your thoughts below in the comments box!
Image Courtesy: Modified Image of geralt/pixabay, and Products' Images.
SEM Correspondent publishes latest news and updates from the world of Digital Marketing in behalf of Search Engine Mogul Team.